Burzynski Patient Wayne Merritt's Story
Note: This is a repost of an earlier case.
***
Wayne Merritt was diagnosed with pancreatic cancer in Sept 2009, only 11 months after his wife, Lisa Marie, had been diagnosed with breast cancer. His prognosis was grim by any standard, as Lisa Marie reports in their Caring Bridge journal on Sept 29, 2009 (unless otherwise indicated, the source of this story):
However,.. she made it very clear that this type of cancer is not curable and the chemo treatments would be for the duration of the disease. He would take a treatment for 2 weeks in a row,.. and then be off for 1 week. We asked her bluntly about pronosis with and without treatment and were told "less than 6 months without treatment" and "6 to 12 months,.. maybe as much as 15 with treatment". It all depends on how the chemo drugs affect the growth of the tumors. There is no way to predict if the drugs would be successful. This is all weighing very heavy on us. We are totally exhausted, emotionally and physically. We just feel numb inside.
On October 2nd, they have settled on the Burzynski Clinic:
Written Oct 2, 2009 3:54pm

Much prayer,… much research,…. much discussion…. has led us in the direction of The Burzynski Clinic in Houston Texas and their method of treatment. We have found an inner peace about this program that we had been unable to feel about previous programs we've researched. IT'S EXPENSIVE! BUT, what price can be placed on the life of someone you love!?!?!
Turns out, Burzynski answers with a firm "at least $20,000." But we'll get there.
"They claimed to have had success with Pancreatic/Liver Cancer patients! Up to 5 years of survival, we were told. Wow! 5 years sounds like an eternity when you've been given only 6 months!!!!"
The family drives cross country to the Burzynski Clinic in Houston, where they have their first appointment on Oct 8th:
Written Oct 8, 2009 6:41pm

We saw the doctor today. Actually, we saw three doctors today. Dr. Burzynski being one of them. He was updeat and positive about treating Wayne, although he made no promises. He admitted that pancreatic/liver is a tough one. He said the treatment would either help fairly quickly,… or it would not work at all. He will keep a check on the progress very closely for the first couple of months,.. and if he is successful we should see the tumor growth slow down, stop, or even shrink.
They had been expecting to be placed in a clinical trial, as Lisa Marie describes in an email to this site:
"He was not a part of the clinical trial. We were told he would be…. Until we got out there. Then we were given a whole different regimen." [emphasis added]
Usually, you might expect this to be an anomaly, but the same thing happened to
Kathy B.
, who only found out that she was going to be on regular chemotherapy after paying $30,000.
Furthermore, the successes that had originally attracted the Merritts to the Clinic? All of the patients they were referred to were still within the range of life-expectancy that Wayne had been given for his diagnosis:
They gave us a list of contacts. The sheet contained 4 names of pancreatic patients, 1 would not allow you to contact them, and out of the other 3, the earliest diagnosis was in March of 2009! Where are the people that have survived for 3 years, 4 years, 5 years!!!!???? Heck, even 1 year would have been nice!
We followed up on those patients. At the time they were given the sheet, the condition of these patients was worse than they could have possibly expected:
Joseph A.
was alive, but died well within the expected life expectancy for his diagnosis. Maxine M. had
already died
in October of 2008. Irene S. would be dead within the month. Joanne S. too was alive but was also dead not a year after starting therapy.
In an update on Oct 15, we learn that a PET scan has found tumor activity on pancreas and the liver. They appear on the "gene-therapy" track that the clinic offers instead of the ANP track:
If you are interested…. this is the list of medications…. some of you have asked me. 1) Amino Care- developed by Dr. Burzynski 2) Brain Longevity – developed by Dr. Burzynski 3) Xeloda 4) Sodium Phenylbutyrate 5) Zolinza 6) Nexavar 7) Rapamune 8) Avastin (given through IV)

Two out of the three genetic markers have come back….
HER2 was normal
VEGF was very high
EGFR we will get results tomorrow…..
They close with an appeal about their finances:
Again, please…. keep us in your prayers concerning our insurance! They do NOT want to help pay for this treatment…. due to the fact that even though these meds are FDA approved,… they are NOT approved for use as being prescribed by Dr. Burzynski. All treatment so far is out of pocket,…. And our pockets are not very deep!
After they return home to Georgia, we receive an update that reveals that there the Burzynski Clinic has not given the Merritt's an accurate understanding of what lies ahead for them and that they find themselves staring up at the foot of a mountain of debt:
Written Oct 27, 2009 7:50pm

It is with a heavy heart that I deliver the following news…..

We had an appointment with a local oncologist this morning. We went there to get blood work to fax back to the Burzynski Clinic and to set up the infusion of Avastin that he was prescribed to have every two weeks by Dr. Burzynski. They did the blood work without a problem, however when the doctor came in to talk with us, she stated that she would not be able to give Wayne the Avastin infusion…. And that no other oncologist would be able to either. They are not allowed to administer drugs not approved for a particular diagnosis, this makes them liable. She stated that even if she could administer the drug, it would be completely out-of-pocket for us. She stated that the insurance would not cover it, and even had her office check to be sure. AND on top of that,… she said even if we wanted to pay the approximately $8000 for the treatment every 2 weeks,…. She could not assume the responsibility of drug reactions that could occur, which she said were many.
From the first day we went to the Burzynski Clinic, we were pushed into one drug after another, with the costs mounting to great heights with each one added. We had really hoped that a miracle would happen,… either the genetic tests would determine that Wayne did not need to be on some of the drugs,.. or he would only have to take some of the drugs for short periods of time,… or insurance would come through for us and some of the cost would be covered. That has not happened, and the local oncologist says it will not happen. She had her people check and only one medication is approved and covered for Wayne's diagnosis of pancreatic cancer. We also confirmed this by paying our local pharmacist a visit,.. and they said the same. So,… we now feel any statements made by the Bursynski Clinic concerning insurance payment/reimbursement was just them blowing smoke our way,… to the tune of $20,000 out of pocket plus travel and lodging costs. [emphasis added]
These unexplained, unexpected fees are TITANIC:
We've determined that to keep Wayne on this course of treatment would cost us between $28,000 and $30,000 per month for several months, plus travel costs to Houston every 2 weeks to receive the Avastin infusion, because we are unable to get it here. All of this is just not possible. We were told and expected… $15,000 for the first, initial visit/tests,.. and $4000 to $6000 each month in medication. We could have found a way to handle that, but that got blown out of the water!!!!! We feel we were grossly misled.

We are saddened,… crushed,…. confused,…. feeling like we have ran into a solid brick wall face first….. trying to catch our breath and figure out what our next step toward treatment might be. [emphasis added]
The Merritts of course, decided to look elsewhere for treatment, but when they contacted the Clinic to discuss how they could safety wean Wayne off of the drugs safely, they were not referred to any medical expert. Rather, they were sent to the
insurance coordinator.
The family is rocked by these developments, and they disappear from radar as they recover and regroup. We hear about what has been going on in the interim in early December:
Written Dec 1, 2009 9:31am
It's been a while since I updated the website, I know, however…. After our last blow to the gut by the Burzynski Clinic… it took us a little while to get our feet back on the ground and clear our minds enough to think clearly as to what direction we should take.

We have decided to go with The University of Texas, MD Anderson Cancer Center in Houston TX. We've spent days gathering all the documentation they needed to review his case. It is being reviewed now, and we are waiting to hear as to whether or not they think there is any form of treatment that will be beneficial.
Burzynski treatment, however, continues to impede the Merritts' progress:
Written Dec 3, 2009 2:58pm
We got the phone call from M.D. Anderson Cancer Center yesterday, and it was not what we had hoped. Because of the treatment recieved at the Burzynski Clinic, Wayne will not qualify for any First Round Clinical Trials. Since M.D. Anderson is a research hospital,… dealing exclusively in clinical trials, they stated that they would not be able to treat him, nor would any other clinic, hospital, doctor dealing in clinical trials. His only choice now, according to the medical community, is conventional chemotherapy. Wayne does not want that.
Merritt family's grievances at this point include:
–Burzynski gave my husband standard chemotherapy medications along with the long list of other meds that were supposed to work in conjunction with each other. We were never told that two of the medications were conventional chemo medications. AND one medication that they charged us over $2300 for,.. we found out from our local pharmacy that we could have purchased it for around $170 from them.

–SO…After we stopped with [Bruzynski's] treatment….We were told that he WOULD NOT BE able to take part in any first round clinical trials, because he had taken chemo medications, no matter how small the dose, or how short the duration. WE WERE NOT TOLD THIS UP FRONT.

–We contacted several facilities, including The University of Texas, MD Anderson Cancer Clinic. None of which will see him because of the treatment he received at Burzynski Clinic.
So according to the family, the Burzynski Clinic grievously wronged them in several ways: 1) they vastly overcharged them for common medications; 2) they treated him with conventional chemotherapy (despite all the whooping and hooting by Burzynski supporters about how his treatments are "all natural") without revealing the full implications of that chemotherapy (apparently denying them informed consent); 3) denying them informed consent, the Burzynski Clinic limited Wayne's future treatment options; 4) by making Wayne ineligible for experimental treatment, the Burzynski Clinic has impeded research into an intractable and deadly disease.
Everybody suffers from this type of behavior, especially pancreatic cancer patients, who need research into one of the deadliest cancers.
As I think you will agree, the Merritts were completely within their right to make their dissatisfaction with clinic heard in any way they saw fit. And, god bless them, they did. They set up the website BurzynskiScam.com, where they conclude, "In our opinion, the Burzynski Clinic is selling false hope at a price no common person can afford!"
Under normal circumstances, that's where the story would probably end. At the end of 2011, however, a PR guy named Marc Stephens, who had been hired by the Burzynski Clinic (apparently to improve his online reputation), started issuing quasi-legal threats to bloggers around the world. Stephens went so far as to threaten a teenage blogger in Wales by sending him images if his own house (the only possible interpretation of this is "we know where you live.") It was written up in the international press: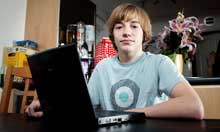 Rhys Morgan: 'They are trying to silence me'
As you could have guessed this rash, ill-advised, and fatuous action against science bloggers led to outrage across the web and drew lots of attention to the scare tactics that the Clinic was employing. (They later distanced themselves from Stephens in an epic
non-pology
. The full history of this episode can be found at
Josephine Jones's comprehensive website
.)
It turns out that not only did Burzynski's hired man threaten bloggers, but he also threatened pancreatic cancer patient Wayne Merritt.
On September 30th, 2011, at the same time bloggers were being threatened, Stephens contacted the Merritts by email in the guise of someone who had once passed out in a law school parking lot. In all, he issued three
written threats
and promised that not only did he represented the Clinic (which at the time was true), but also that he planned to commence legal proceedings against the Merritts. This received scant attention when Lisa Marie Merritt posted about this in the comments of a blog (though a mention is buried in Josephine Jones's compendious post). The
threats Stephens made against cancer patients on behalf of the Burzynski Clinic [pdf]
never received any attention before now.
Most disturbing about all of this is that Stephens suggests that he has looked through patient files and has detailed information about them and their treatment. (If this is true, how could this ever be considered an ethical use of private, privileged patient data?)
And he didn't just email them badly worded threats, he actually phoned them at home. According to an email sent to this site by Lisa Marie, she put him in his place:
Marc Stephens was the one who contacted me. He was very, very rude and pushy. HOWEVER,…. I told him, "I have had breast cancer and faced death, my husband has pancreatic cancer and is facing a death…… after all that…. there isn't anything you can do or say or threaten that will scare me! And short of a court order… and jail time, I will not be removing the site."

He did not call back… but I heard that he had been let go by BC. If they have hired another guy…. I'm sure I'll be hearing from him as well. He will get the same response.
Hell, yes.
I am glad that their persecution by Burznyki's toughs ended there, but the psuedo-legal attacks against the critics of the Burzynski Clinic have continued. In the Spring, a number of skeptics (myself included) were
depicted as pedophiles
on a very short lived website. And this winter,
my employer was contacted by Eric Merola
, the director of the no-budget Internet stinker
Burzynski: Cancer is a Serious Business
. He misrepresented me to my new employer, swore he was going to put me in the sequel (
Burzynski: Antineoplaston Boogaloo
), asked for a statement from my employer about what I do in my spare time, and then had the gall to include a little legal disclaimer that read: "This email was intended for the recipient at XXXXXXXX@XXXXX.edu only. It is not intended to be to be forwarded either in part of verbatim to Mr. Robert Blaskiewicz." The lawyers and I had a chuckle.
I am pleased to report that Wayne Merritt is still with us, having far exceeded his initial prognosis, and that his tumor seems not to be growing. I don't get to thank many of Burzynski's patients for the use of their stories, and I deeply appreciate their kindness and willingness to speak out about their horrible experiences with the Clinic.